Welcome to the official site for Jason Bastelli. You may recognize Jason from his recurring role on As the World Turns or maybe his stint on Late Night With Jimmy Fallon. Here you will learn more about this talented young actor. For Industry Professionals looking to learn more about Jason, please click on his name in the navigation menu to find everything you will need.
Happy Halloween!
By staff | 31 Oct 2013 |
Hopefully everyone has had fun trick or treating tonight, getting lots of candy, having a great time with family and friends. Jason loves
Halloween
, he enjoys planning out his costume and getting dressed up, the candy of course is great too. This year he decided to go as an
army tank
, and what an
awesome
costume!! An image from earlier today has been added to the gallery, make sure to check it out.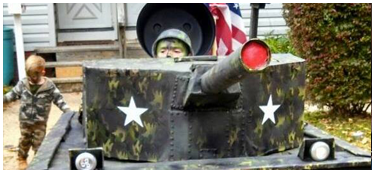 Happy Birthday!
By staff | 03 Aug 2013 |
Today's going to be a very fun day for Jason! He's been waiting quite awhile for it to arrive, and now that it's here it's time to celebrate! Time with family and friends, fun activities, cake, presents, and all the exciting birthday traditions as today is his birthday. Happy Birthday Jason! I hope you have a great day today, and you're birthday is all you hoped it would be and more. Being nine is going to bring along so many fun new opportunities, and you are going to love it! Happy Birthday Jason!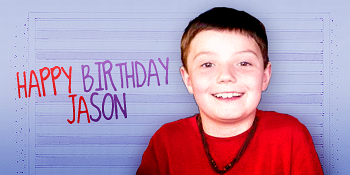 (Thanks Sarah for the banner!)
Daytime Stars and Strikes
By staff | 29 Jul 2013 |
Back in 2010 Jason attended the annual Daytime Stars and Strikes event in New York City. Hosted by Jerry verDorn of One Life to Live, it's a fantastic afternoon of daytime actors coming together with the fans to bowl and raise money for the American Cancer Society. Jason was happy to help represent As the World Turns that day, and loved meeting fans. With a big thank-you to Lisa S. we have two photos from the event of Jason with Jerry as well as the DeVestern sisters who are fellow CP Talent friends.
CP Talent Anniversary
By staff | 09 May 2013 |
Jason loves his management CP Talent, they've given him so many fantastic opportunities over the years and the staff rocks! Recently they celebrated their three year anniversary and Jason was thrilled to get to go to their party. Several of his friends were there and he also made some new ones as all the kids were playing video games, posing for pictures, and just having an overall good time. Thank-you Colette for such a fun afternoon and for everything you have done for Jason!